Lenovo ThinkPad T410, Intel Core i5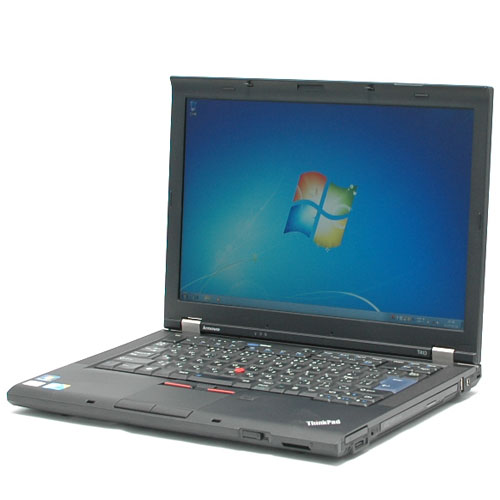 To the naked eye very little has changed with the overall design of the ThinkPad T410 compared to past models. It still carries the black rubberized screen lid with ThinkPad logo, still offers the shiny matte-black chassis and palmrest, and still uses the strong and highly visible stainless steel screen hinges. Those are the areas where the similarities stop. The port layout has significantly changed to allow an increase in available ports and even a few new types of connections. Once opened, ThinkPad fans will notice that Lenovo finally centered the screen, so no more thick bezel on one side and a thin bezel on the other. Another change is the shift from a two-piece palmrest and keyboard bezel on older models to one-piece design that is stronger and has fewer gaps to squeak. The bottom has also changed–with a user-access panel being the biggest addition–to let users install more RAM or a wireless card without tearing apart the notebook.

Processor
Processor Type
Intel Core i5
Clockspeed
2.4 GHz
Physical Appearance
Screen Size
14 Inches
Colour
Black
General
Operating System
Windows 7 Pro
Webcam
Available
DVD Drive
Available
Charger
Available
Storage
Storage Capacity
You can select desired storage capacity, from the options available on left hand side of the page. Available options are 320GB, 500GB, 750GB, 1000GB, 128GB SSD, 256GB SSD
Memory
Installed Memory (RAM)
You can select desired Memory, from the options available on left hand side of the page. Available options are 4GB, 8GB, 16GB, 32GB
Warranty
General Warranty
Available options are 1 month, 2 months and 3 months warranty
Payment Options
Cash on Delivery
Cash on Delivery available.